As promised, I am going to make a post all about tips for getting your photos to appear the way you imagined them.
I am a photographer. This is my biggest passion, and one of the two things I am going to be going into for my career. I take it seriously.
The rules for AGC for the actual photography part, are as written:
"-Creativity - how creative and imaginative they are. Make sure you are really creative with your pictures! Really think about the theme.
-Appearance - how well the photo is set up, details in the picture, how your doll looks, the quality, etc."
Now, I feel that each judge is supposed to be different, in what they see, in what they feel, and in what they think.
I don't see this as a hard thing to comprehend, as each person is different, and will view things differently.
Either way, I wanted to let you in on how I will be judging this season.
Now, I have multiple friends competing in this season, and I know that some people have a hard time doing that, and I am one of those people. I don't like eliminating people that I have a relationship with.
But in order to fairly judge this season, I will have to.
But to those friends, please be aware that I am judging them all based on these criteria, and it's not that I don't like you, I take all my relationships seriously, and I love my friends. So please don't feel that I'm eliminating you because I don't like you, or I don't like your photos (even those of you who I don't know super well, please don't think these things about me, either!), it's just that there was another photo that I felt, saw, and thought about in a different way, and that's why I picked it.
I will be fair, and I will judge each photo as if I don't know who took it. I won't play favorites, and I won't be "easy" on anyone. If your photo is amazing in my eyes, then I will pick it, if it's not, then I won't.
Guys, quality is a big factor to me. I know there are other important things to judge, but quality is my baby.
I don't like bad lighting, I don't like super grainy (unless there's a reason for it, or it's the right setting).
Clear, sharp, in focus. That's what I like. That's what I'm looking for.
Now, I understand sometimes that it can't be helped, but follow the tips below, and you'll be fine.
But, realizing that sometimes people don't have the best camera (even a simple point and shoot camera, used the right way, can be produce beautiful things. Like Carlotta says "Pr
actice, practice, practice. Always. Don't be discouraged by your camera; maybe you only have a point and shoot, but it's still a camera. Make the best of it."
I fully believe that is true, and I know it's true, because I was in that same boat.
Realizing that, I won't judge just on quality, which brings me to the next point...
Messy tables, humans, houses, etc. aren't fun to look at.
well, newsflash, it's the same for dolls.
I don't want to see a photo of your doll sitting around bored out of her mind looking like a disaster. that doesn't look real.
our goal is to make the dolls look real.
so, fix that dolls hair, put something presentable on, and make her look her best! I cannot stand pictures of dolls looking their worst. You want to look good when you go outside, right?
well, I'm sure if she were a real person, she would, too.
Let's be real. Creativity is hard. hard. hard.
it comes naturally to some people.
i am not one of those people.
it takes me forever to come up with a creative photo for a theme.
I struggle with this, and I'm sure some of you do, too.
Either way, it can be done, and I will be looking for it in your photo.
Now that I covered all those points, here are some tips to help you. Most will fall under the quality category because I saw a lot of comments/emails where people were asking about that. Plus it's my baby, soooo...
Quality Tips
First, your picture will look best if the setting you're taking it in is well lit.
For my pictures from last season, I took them either outside or next to a very large, well lit window.
I used to take them in my basement because that's where people wouldn't bother me, and that's where I could leave it up so that people wouldn't see it if they came over.
well, to my very ashamed self now, that was the worst idea in my photography journey. ever.
Now, I learned from that mistake, and am passing it on to you.
it's a huge no-no, and I promise, you won't get far in this competition if your lighting is off for all your pictures.
I'm not singling out anyone, i'm really not. And right now you may be thinking, well, I don't really know how I am supposed to do this, because I always take my photos in artificial light, or at night, or in my basement.
well, my friend, that is why i am writing this post.
For each them, I will give you at least two weeks. That includes all the weekdays, and at least two weekends. so there should be no complaining about never having time during the school week.
If you're so busy that you don't have time during the week, and the weekends to take the pictures in a well lit area, then you might as well quit now.
Personally, I know that I really struggled with getting my photos in on time. I understand, but I know that I could have done better for some of the themes. I know it, and I'll admit it. And maybe I shouldn't have made it to the final round, maybe I shouldn't be host because of it.
But Willow was super nice about it, and I will try to be. But I'm not exactly the same person as Willow, and I will give you time, and if you don't get it in on time, or if it's not well lit, then I'm sorry. But you're not going to last for forever in this season.
For my photos, I normally took them on shady days/times in the afternoon/morning.
For the really soft glow ones like this one:
I got up early, I knew I wanted that look, so I decided to get up earlier to achieve it.
As I said at the beginning of this post, I take photography seriously, as should you if you want to make it in this competition. Try your hardest, follow these tips, get the look you want to achieve, and you will do well.
Editing is an important part of my photography. I use Lightroom 5, and I really recommend it for someone who really is interested in photography. It costs money and it's not cheap.
So if you want something free, I recommend either Picasa (used that before I got lightroom), or Picmonkey.
Be careful, though. Editing is like makeup, you don't want to go overboard so that everyone knows you used it, it's for enhancing the already beautiful image and making it look its best.
When you take your images I would advise you to take more than one.
Last season, for each theme, I would take between 30-100 images and then find the best one. And let me tell you, it was SO worth it.
Most of the time I would leave up my scene so that if I didn't like any of the photos, I could go take more with the new changes in mind without it being too much of a pain.
I talked about this before, but I just wanted to add a few things.
You see these two images below:
Studying both pictures, you see that they really aren't that much different, but overall which one looks nicer?
Yeah, probably the bottom one. The doll is more in focus, and it's an overall better lit image.
These images were both taken for round 3. The first one was artificial light, the second one was natural light.
artificial light (and flash):
I've got loads more from where these came from, but seeing as I'm not too fond of sharing these, that's enough for me. You get the picture... (haha, did you catch my little pun? thank you. i know i'm not good at puns)
natural light (and no flash):
While we're still on the topic of lighting, let's take a moment to talk about flash.
Flash can be a very helpful tool if it's dark outside and you need something lit up. Like a doll's face. It helps to make it seem as if the photo was actually taken during the day.
My opinion of flash is not going to be written here, but let's just say I hate it and never, ever use it.
To me its the easy way out. And I hate it, oh, I hate it.
And while you think it actually helps the photo, it makes it ten times worse. You think you can get away with it being dark outside, you're wrong.
If you've used flash and hate it, you can almost always spot it. I know this from experience. I used flash allll the time.
Flash done right can look fine, but most people don't use it right.
So I encourage you to stay away from flash unless it's supposed to be part of the picture. It will cause harsh glares on your dolls' face, and I can spot it, and I don't like it.
Again, natural lighting is the way to go.
Appearance Tips
Ask yourself why?
Do you notice anything about the differences in the two above pictures that aren't as good? Besides the fact that the doll is in her own environment and looking nice and clean, well dressed and her hair is in place in the top right and bottom left photos, the other thing to notice is that in the bad pictures the doll is not looking at the camera. They're looking awkwardly past it.
Now, notice the better ones. The bottom one she's looking exactly at the camera. This is a good idea. If you want your doll to look real, having them "looking at you" will be a good option.
You probably noticed that in the top better one, the doll isn't looking at the camera. But unlike both the other ones, she doesn't look awkward. How?
Well, I'm going to let you in on a little secret. I say little because it's actually quite simple.
In both the bad ones the doll is supposed to be looking at the camera. That's the goal, apparently. But I didn't do it right, obviously. In the one where she's purposely not looking at it, she obviously looks like she's not supposed to be.
So if the doll isn't supposed to be looking at the camera, make it obvious not awkward. Turn the head, don't leave it straight and turn the camera, sure, it's easier, but the results will be worth it if you take the extra time.
And while we're on the subject, there's no way that you can get the doll to look at the camera unless you get on their level. Yep. Go lay on that ground and get that camera right in her way, that's the goal, that's what you want. it's worth it, i promise.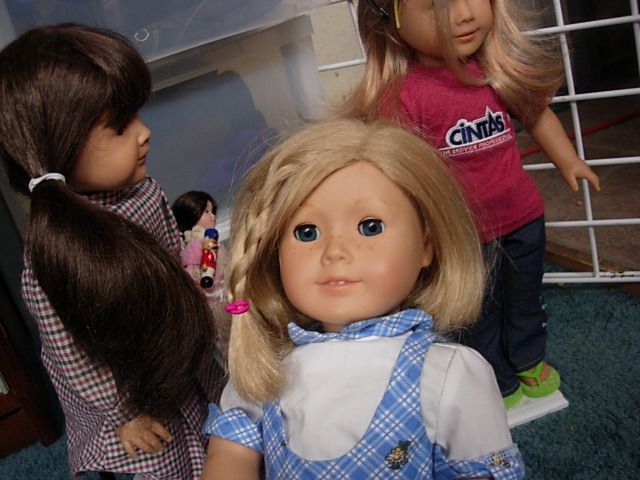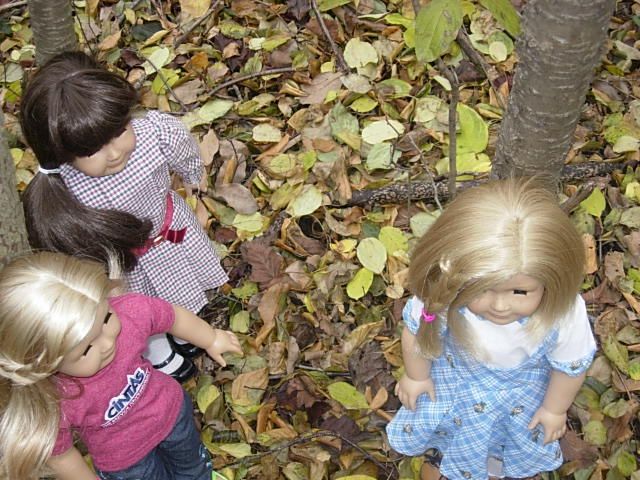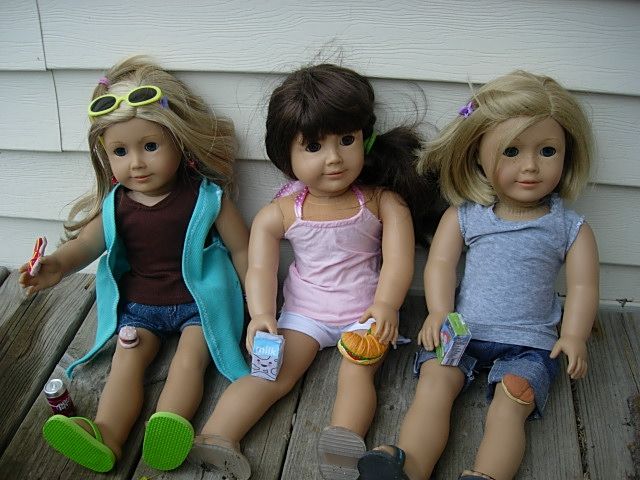 Let's talk props/scenes now.
props really can make the photo come alive (as you'll learn a bit later), they help tell the story. And with this said, you aren't going to pose like you're eating a turkey that's five times as big as you are and pretend that it's real. No one will believe you.
Same with dolls. Don't let human things get in the pictures unless there's a reason.
It makes your photo look trashy and not well thought out.
Now, scenes. If your photo is supposed to take place outside, why are you inside?
No, seriously! Don't take the time to "recreate" the scene inside. It won't look right, and everyone will be able to tell. Just so that you don't get a few weird looks or it's too cold or hot? Yeah, been in all of those boats. I try to avoid days where the place I'm taking the photo is busy with people, or when it's super hot or cold, I'm just like the last person in that regard, but when push comes to shove, I bite the bullet and just do it. It's always worth it in the end.
Bad props, in a human car, human items: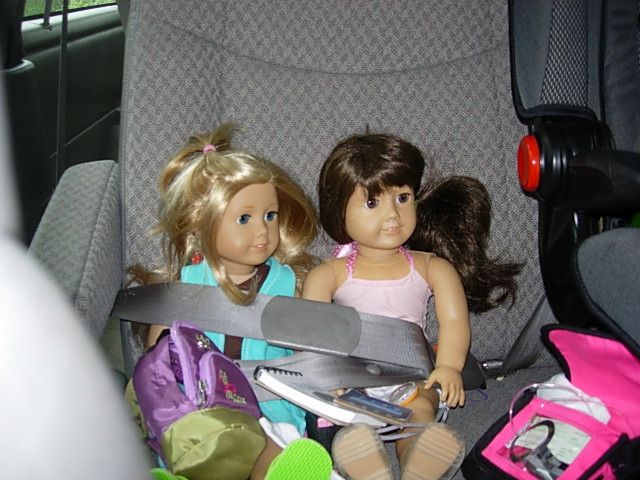 good props, all doll sized
this photo is crowded, but there was a death portrayed in the photo, and when such things happen, confusion abounds.
Now, I hate this picture with a passion, but I have seen some things like this in the past: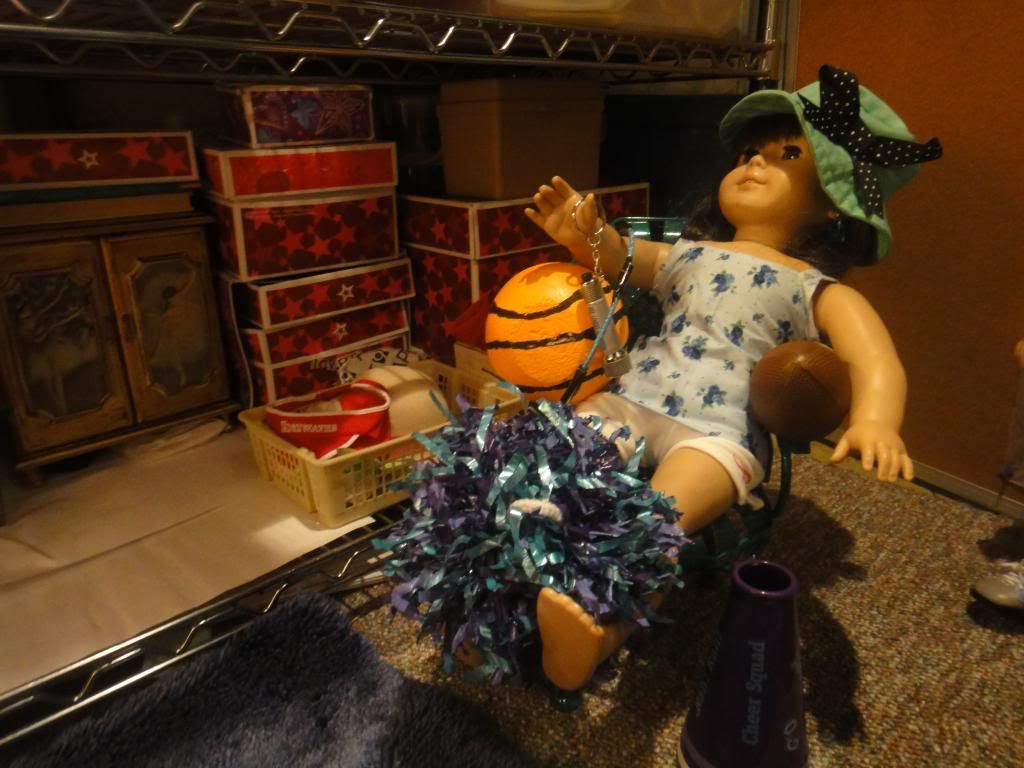 I am ashamed to say that I took this photo. I don't know why, or what for, but to put it plainly, this photo deserves to be in the garbage.
this is the exact image of something you do not want.
so don't do it. ever.
the doll looks absolutely awful, the lighting is all off, and there's way too much going on where you can't explain any of it.
You want to tell a clear story with your picture, and would you say that image is showing it?
How about this one:
Yes, it's crowded, but you can easily see what she's doing, right? She's wrapping presents, right? It's also well lit (unlike the other one), and it's not a mess (like the other one).

Now I realize not everyone can afford a DSLR or a super nice camera, but that's okay. Remember the words of wisdom from Carlotta "Pr

actice, practice, practice. Always. Don't be discouraged by your camera; maybe you only have a point and shoot, but it's still a camera. Make the best of it."

Make your doll look good in the pictures. Make her look real. Let the picture come alive. Tell a story through it.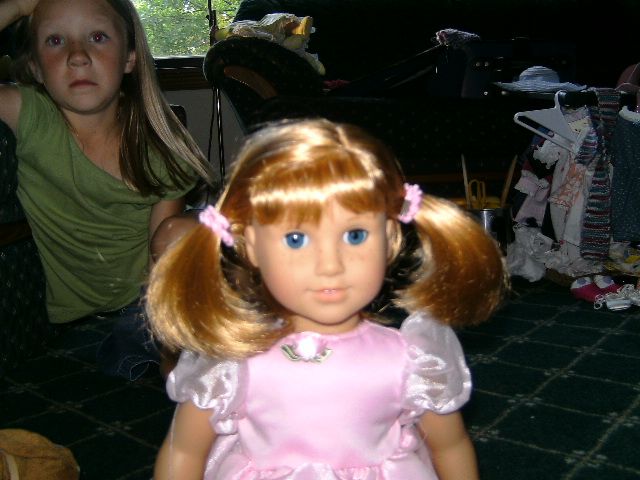 And with this one, the doll looks okay, she's not the problem. The problem is the focus is off, and (there's nothing wrong with people being in the background, the problem is that she's not supposed to be there. And look at that background, it completely draws away from the subject. Remember, clear, clean photos with a sharp and main focus.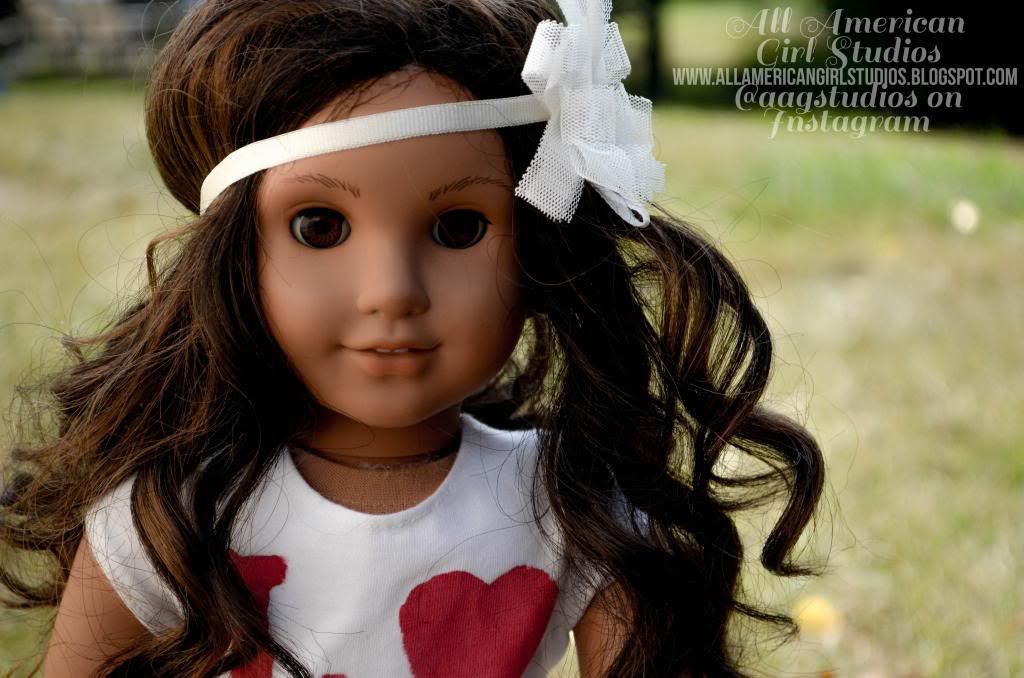 In this one, Raegan looks very presentable, cute, she's obviously the main focus.
Creativity Tips
Below will be a bunch of photos. Look at them and ask yourself
"are they creative? Why or why not?":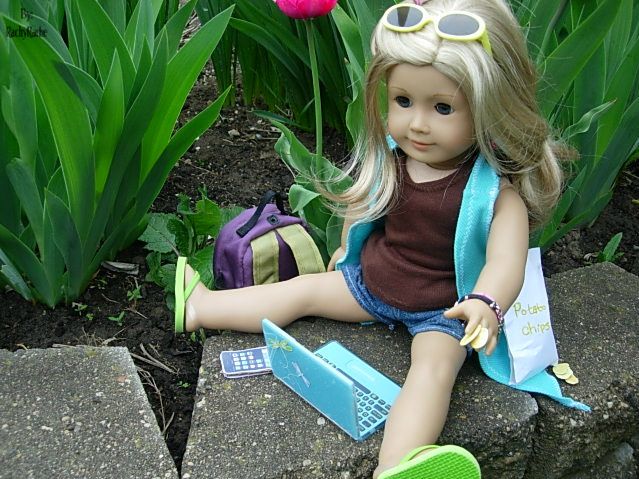 For the most part, the ones that are creative have what in common? items, drama. They have something in the picture that draws your attention and makes your brain think "what's going on here?" There not just a doll sitting around holding a magazine looking awkwardly at something not even in the picture. No, they've got items in the picture that draw your eyes in, they have something meaningful to look at, they add something more. They have well thought out objects, "plots", stories. You can feel what the character is feeling. This is what you want in your photos. Really take the time to think about it. because I can assure you, I will take time to think about eliminations and honorable mentions and a winner. If you didn't take time to think out a story or "plot", what makes you think that I would take any time to think about your picture? If you really cared about this, you'd take time to think about what the theme really means to you, and to the personality of your subject.
I just want to mention, before I finish up, that these are my personal tips. I don't know everything there is to know about photography
and I don't claim to
, but it is my biggest passion, and I have learned a lot. I want you to use some of these tips, but find your own niche, because nobody's is the same. Find what you like, and do it your way, but use these tips as a guideline.
I hope these really helped you!
If you have any questions, or something for me to answer, let me know and I can add it to the post.
I've got loads more of good and bad pictures, and can always add more.
Please let me know of any questions. I want to help you to the best of my ability!
For more tips see here.
If you'd like to take a look at more of my doll photos, click here.
More of just my photos, here.
My dolls:
| | | | | |
| --- | --- | --- | --- | --- |
| Kit is an author at heart. she loves to read and write. She loves Mya with all her heart, and they love talking about everything and anything. She also has a great relationship with the new girl in the family. | Jessica is a model, fashionista, and loves anything popular. She absolutely loves spending time with Raegan and she gives fashion advice to Mya because Mya listens to all of it, and they're quite close as well. | Samantha is shy and talented in the art area. She loves painting and drawing. She loves the new girl of the family, and they get along best. | Mya has a big heart. She loves animals, but people are her main priority. She loves being with people and making them feel loved. She gets along with Kit fantastically. | Raegan is into anything sporty. She changes her hairstyle and color constantly. She is into fashion because she and Jessica are very close. |
All photos belong to me and should be treated as such. No crediting them as your own (although, some of them really aren't worth it anyway). Stealing isn't nice, kids.